Following last week's release of Cyberpunk 2077 gameplay footage captured on the Xbox Series X, CD Projekt Red has today released a new video featuring Cyberpunk 2077 gameplay from the PS4 Pro and PS5. Furthermore, the video shows off never-before-seen gameplay from the game's 'Nomad' opening.
New Cyberpunk 2077 PS4 Pro & PS5 Gameplay
As one would expect, even without a full next-gen upgrade, the Cyberpunk 2077 PS5 gameplay footage is notably better than footage from the PS4 Pro (although both look suitably impressive, to be fair). Cyberpunk 2077 will, of course, be playable on both current- and next-gen consoles when it launches early next month. An official next-gen upgrade, which will be available for free, will be launching at some stage in early 2021. At that point, the difference between the two versions of the game may become more stark.
What many fans may find more interesting about the new gameplay segment is the actual gameplay it shows; CD Projekt Red has shown very little of the game's different openings, three of which are available in-game. This particular video shows a range of clips from the opening of the game's Nomad backstory, showing V as a lone drifter who enters Night City from the barren wasteland outside its walls. The footage shows off the security guarding Night City's borders, as well as glimpses of the Nomad settlements which exist outside the city.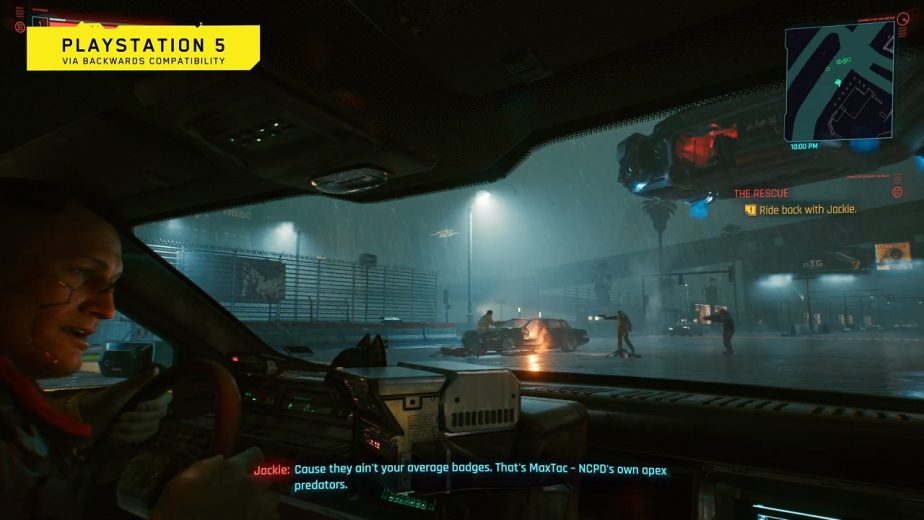 Cyberpunk 2077 is now just over two weeks away from release. After a series of lengthy delays, the game will finally be launching on the 10th of December. This time, it looks very unlikely that the studio will announce any more delays; the game has already gone gold, for instance. (Although, to be fair, the game had gone gold prior to the last delay, which pushed the release date from late-November to early-December). Whatever the case, fans shouldn't have to wait too much longer before it finally arrives.